This is my Holy Grail! I bought this from David Countryman in Atlanta. A great guy! A good price too. I had to get this game shipped to a nearby Forward Air terminal. I always loved this game and when I got it it went straight to my storage shed! I had to eventually get a shed because Wade kicked my games out. He needed the room with his new bride to be, so I didnt want to hold up a beautiful thing! Besides, I needed to start storing up my future housewares. I still cant beleive that I got this game. Right now the spinner is dead, everything else is perfect but you cant get too far without the spinner so I just shoved it in a corner and unplugged it till I get the part. I have retouched a few spots in the cabinet and did a cap kit. Otherwise it is a dream come true. This is one of my three dream games I had hoped to own when I started collecting.

7/27/01 I finally have a working Tron again. I cant belive how hard it was to get that spinner. I think im gonna start to stock up on extra working parts for this game when I can afford it. I dont want to be without this game again for so long. Thanks Bart!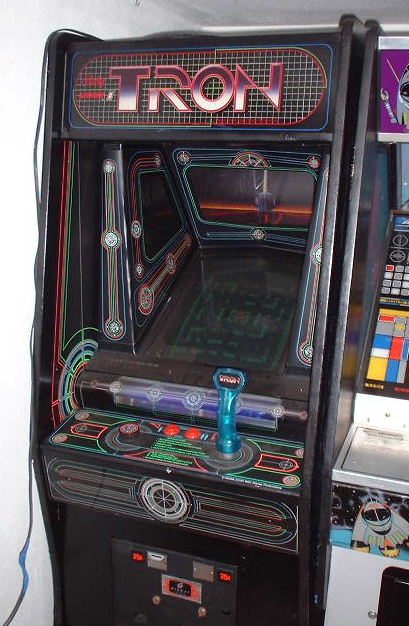 Well I FINALLY got a working spinner!! Damm, it took long enough huh?!? Thanks to Bart Huffman, he had one for me at a good price and seems to just know about everything there is to know when it comes to videogames. Maybe not as much as Bob Roberts, but he is easier to get the info out of than Bob is :-) Man, I hope it satys just like it is for a long long time! Working 100%!!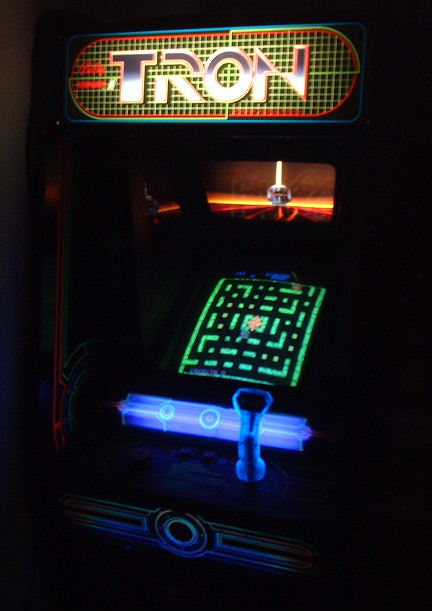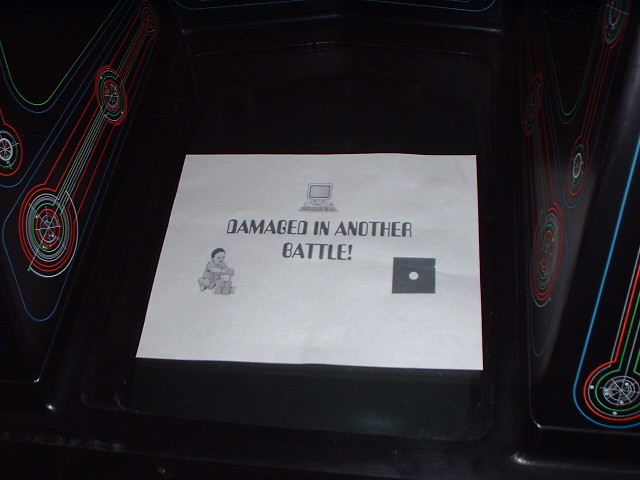 Here is a close up of the sign that occupied the screen instead of the MCP spinning. :-( Not needed anymore!!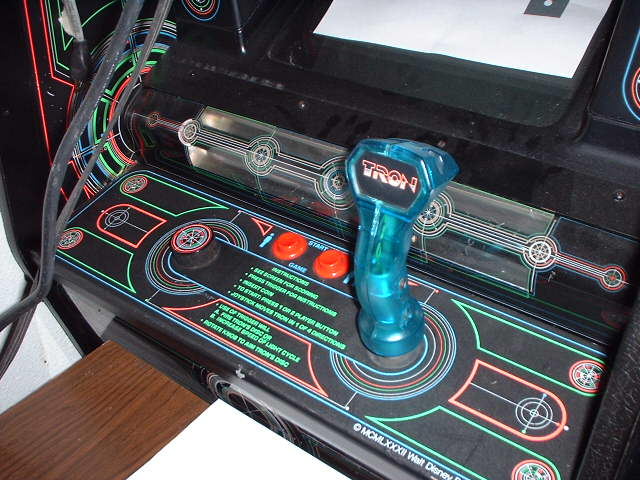 This control panel looks absolutely fabulous! All original, no replacment decals....yet. Here is a quick hint on how to brighten up any overlay, use Simple Green and a toothbrush. Works like a charm at removing the funk. But dont put it on any decals, it will erase them fast!