This game I bought from the same fellas in Beaumont,Texas, except this time I had the brite idea that I was gonne save the cost of shipping, $85 and go pick it up myself in my Grand Cherokee. I sneaked away from work on a saturday and left at 6am and started my 4 hour drive with my fiancee. I got there on time and the guy that sold it to me was unavailable , stuck in Houston. DAMM! To make a long story short, big mistake. I got it back to the shed in time before it closed. Its still a cool game, I wanted Donkey Kong as 1st choice, but this was the only choice. It ended up being the better choice. Work-wise, I repainted the cabinet, some NOS stuff, cap kit, new T-moulding and the best part yet..., I found someone that was offering a conversion that allows Donkey Kong Jr. boardset owners, for $80 , to be able to switch from DK Jr. to Donkey Kong with the push of a few buttons! Now it is the Shite!

Here is Junior looking all awesome and new, the best is what is inside the cabinet!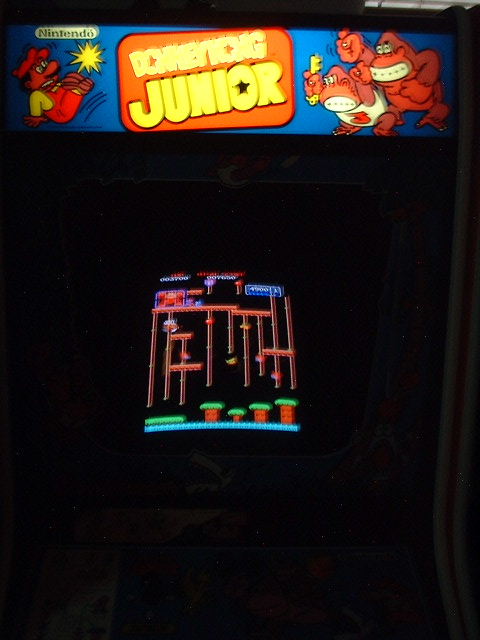 Here is what the game looks like in the dark , also notice the screen, DK Jr. is selected -------->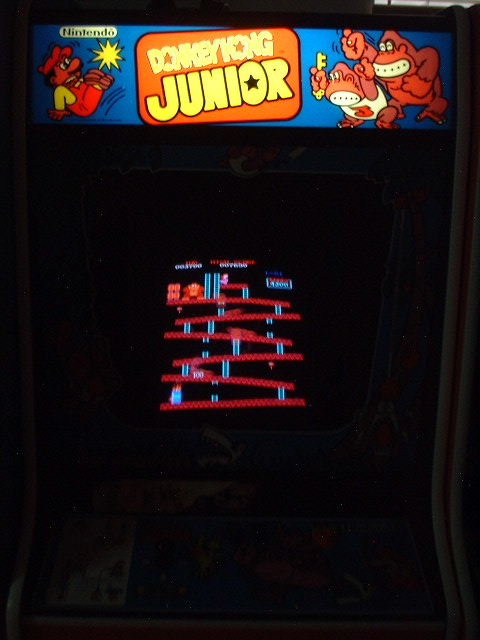 This is what happens when I hit the player 1 & 2 buttons at the same time, it now plays Donkey Kong!! I will never get rid of this version!