I bought this game from a fella in Huntsville, Alabama. I bought it originaly for my fiancee. She loves Superman. It was a reason to buy another game, and one thing I learned, any reason to get another game is a good reason! :-) The game was a jamma converted Robotron. Thank God that the cabinet was 80% intact, the monitor glass was still there.
The hard part is that the control panel is all messed up and has a Superman overlay, which isnt bad, but im ready to change it back to Robotron. That will be kinda hard since the wiring is all hacked up for Jamma. BUt I have all the pcbs that are needed and a marquee and new overlay ready to go, I just need to get that game in my new house.

Ok, update, 7/11/01....I finished the reconversion back, I used the jamma wires , but the game is only set up for Robotron, so its a dedicated game again with different colored wires. The game powered up fine the first day while I was still rewiring, and the next day it died. Im not sure what happened. In the meantime I started to work on the control panel, I filled in the holes with Bondo and did a lot of sanding. I applied the new overlay and printed up a instruction card for the bezel and it looks great! My Galaga went through the same process, asthetically it was 100%, just needed a brain.

7/27/01 Bart Huffman is the man! He came through with a working cpu pcb and soundcard and new leaf joysticks!!! With the new blue T-moulding, its just a dream come true!! WOW! If I must say so myself :-)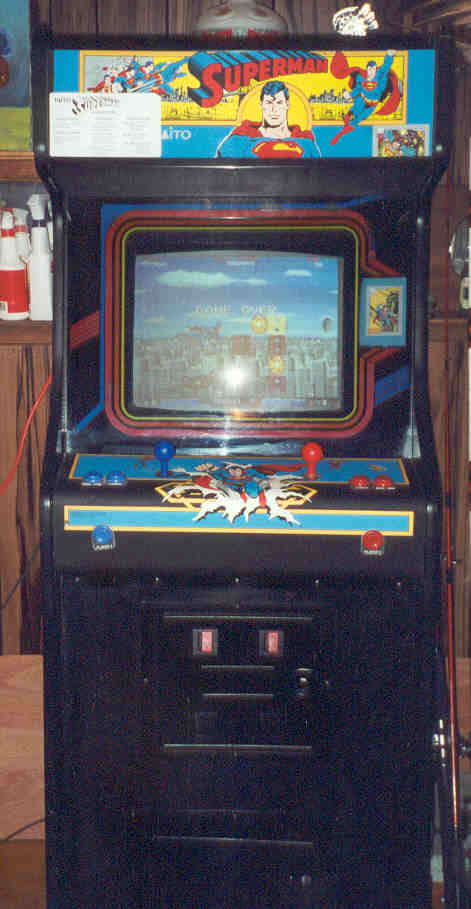 ABOVE>>Here was the Superman conversion as of a week ago, now its back to its old self again..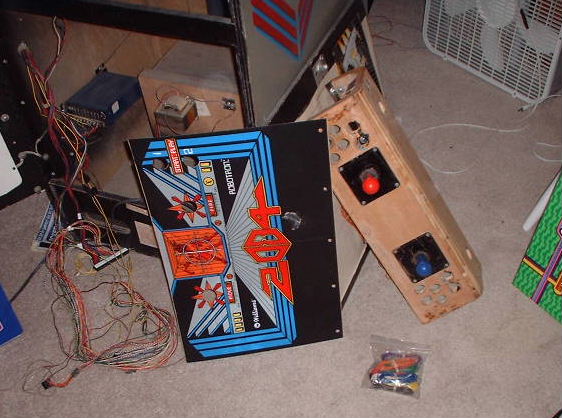 Above is a picture of how the gameroom was a complete mess while I was working on the restoration. Im starting to get good at this kinda thing. If you can, notice the birds nest of wires, man that was a headache!